Featured Artists
Sonja DuToit Tengblad • Soprano
Described as "radiant" by Opera Magazine, recent highlights for soprano Sonja DuToit Tengblad include Shostakovich Symphony No. 14 with A Far Cry, Mahler's 2nd Symphony with the Boston Philharmonic, Barber's Knoxville: Summer of 1915 with the Boston Landmarks Orchestra; Monteverdi's L'incoronazione di Poppea (Drusilla, Fortuna) and Il ritorno d'Ulisse in patria (La Fortuna, Giunone; Grammy-nominated recording with Linn Records), Vivaldi's Juditha triumphans (Abra and Ozias), and Mozart's Die Zauberflöte (First Lady) with Boston Baroque; Bach's St. John Passion and Purcell's Fairy Queen (2nd Fairy, Juno) and Dido and Aeneas (2nd Woman) with the Handel and Haydn Society; Francesca Caccini's Alcina with the Boston Early Music Festival; Handel's Messiah with the Rhode Island Philharmonic; guest appearances with the Boston Gay Men's Chorus and Minnesota's Bach Roots; Puccini's Suor Angelica (Sister Dolcina) with the Lorelei Ensemble and the Boston Symphony Orchestra; and her Carnegie Hall and Lincoln Center debuts, both with the New York City Chamber Orchestra. She was awarded 2nd place in the 2014 American Prize competition's art song and oratorio division.
A champion of new music, Ms. Tengblad co-curated Modern Dickinson, a touring program featuring all 21st century settings of Emily Dickinson's poetry that was named the #3 Best Arts Event in Austin, Texas 2015 and nominated for four Austin Critic's Table Awards. She has premiered and recorded two works with the Boston Modern Orchestra Project, and in 2015 premiered Shirish Korde's Questions for the Moon with members of the Silk Road Ensemble. A highlight for Ms. Tengblad was appearing in a concert celebrating the 80th birthday of composer Dominic Argento (in attendance) for which the Minnesota Star Tribune reported her to have given "the most affective performance of the evening". In 2017 she co-founded the soprano/percussion duo Beat Song with percussionist Jonathan Hess.
Ms. Tengblad performs with the Lorelei Ensemble, Blue Heron, and the Grammy-winning ensemble Conspirare and their national tours of Considering Matthew Shepard. Upcoming highlights include a national tour of Julia Wolfe's Her Story with Lorelei (co-commissioned by Nashville Symphony, Chicago Symphony, San Francisco Symphony, Boston Symphony, and National Symphony Orchestras), as well as a climate change-centered program with Calliope's Call, Boston's premiere art song organization.
In 2019, Ms. Tengblad founded Beyond Artists, a coalition of artists that pledge a portion of their concert fees to organizations they care about. With every performance she supports climate change work through Eden Reforestation Project or the Environmental Defense Fund in addition to Braver Angels, an institution that cultivates effective bipartisan conversation. She teaches at Wellesley College and is the founder and coordinator of Mothers Out Front East Boston, fighting for a livable climate for all children.
Jonas Budris • Tenor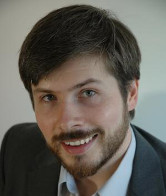 Tenor Jonas Budris is a versatile soloist and ensemble musician, engaging new works and early music with equal passion.
He is a featured soloist in Boston Baroque's Grammy-nominated recording of Monteverdi's opera Il ritorno d'Ulisse in patria. He appears frequently in concert with the Handel and Haydn Society as a soloist and choral singer. Mr. Budris also performs in more intimate musical settings; he particularly enjoys singing with such groups as Blue Heron, Cut Circle, Spire, and the Skylark Vocal Ensemble.Mr. Budris is a Lorraine Hunt Lieberson Felllow at Emmanuel Music, where he performs regularly in the Bach Cantata and evening concert series.
On the opera stage, he has performed principal and supporting roles with numerous musical organizations, including Opera Boston, OperaHub, Guerilla Opera, and Odyssey Opera, originating such roles as John in Giver of Light and the title role of Chrononhotonthologos.
Originally from Martha's Vineyard, Mr. Budris holds a degree in Environmental Sciences & Engineering from Harvard College.
Arneis Quartet • String Quartet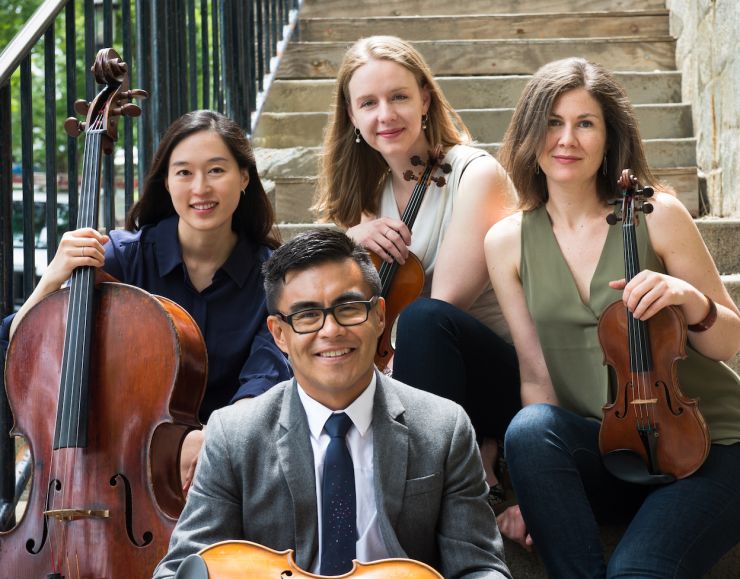 The Arneis Quartet performs an eclectic range of programs from the standard to contemporary, including commissions of new works and interdisciplinary collaborations in New England and throughout the world. Known for playing with "a conviction that commands attention" (Fanfare) and "a unique collective sound which is as warm and full of sparkle as liquid gold" (Boston Musical Intelligencer), the quartet is playfully named after the Arneis grape—a varietal that is difficult to grow, but which yields an exquisite white wine. The Boston-based Arneis Quartet has brought their energetic approach and adventurous programming to traditional concert venues as well as salon-style concerts and community engagement activities since 2009.
Arneis has received critical acclaim for their ongoing Poetry and Music Series, performing musical works inspired by poetry and song with vocalists Tony Arnold, Charles Blandy, David Kravitz, and Krista River. They have performed all or portions of the series at MIT, Boston University, American Academy of Arts and Sciences, and Swarthmore College, and have commissioned new works to further the genre. The Quartet has performed in Shostakovich presentations with New York Times bestselling author M.T. Anderson. They continue to perform each season as part of Emmanuel Music's Chamber Series and Late Night at Emmanuel, and have recently made their debut at concert series such as the Harvard Musical Association, Portland Bach Experience, Wellesley College's Midday Muse, and WordSong. The 2018-2019 season includes a residency at MIT; performances with pianist Joy Cline Phinney and bandoneonist Julien Labro; a premiere of a new work by Aaron Travers (written for Arneis and Tony Arnold); and a collaboration with the Concord (NH) Chorale and composer Nicholas White.
Committed to community engagement and music education, the Quartet has worked with music students at the Boston Arts Academy, Perkins School for the Blind, and the Boston Public Schools. Outside of their Boston home, Arneis has taught master classes and served as a residency quartet at the Boston University Tanglewood Institute, Point Counterpoint, Swarthmore College and Lyceum Music Festival. They have brought their outreach and education programs to communities in California, Michigan, Ohio, and Reggio Emilia, Italy. Arneis performs several times a year at retirement communities throughout the greater Boston area. Quartet members are on the faculties of Boston University and St. Anselm College; the Quartet also works with the Boston Youth Symphony Orchestras where they are the resident chamber music coaches and work with students in the Intensive Community Program.
All alumni of Boston University, the Arneis Quartet has worked with members of the Muir, St. Lawrence, Cleveland, Lydian, Brentano, Emerson and Juilliard quartets. Arneis Quartet has performed with guest artists including the St. Lawrence String Quartet, Marc Johnson, Pamela Dellal, Peter Zazofsky, Ursula Holliger, Jessica Zhou, Kevin Loucks, Michelle LaCourse, and Gabriel Kahane.
Winners of the 2010 John Lad Prize and silver medal at the 2012 International Chamber Music Ensemble Competition, the Quartet has received fellowships at the Aspen Center for Advanced String Quartet Studies and the Apple Hill Center for Chamber Music; other festivals attended include the Juilliard Quartet Seminar, the Deer Valley Emerging Quartets and Composers Program, and the Banff Centre Chamber Music Residency. Committed to new music, they have received a grant from Meet the Composer, performed at the Beijing Modern Music Festival and the Shanghai Conservatory of Music. The Quartet has been featured at the Modulus Festival in Vancouver and Lively Arts Series at Stanford University. A recording of the chamber music of composer John H. Wallace, "Arneis Quartet and Friends", was released in 2016 on Centaur Records to critical acclaim.
Yulia Yun • Piano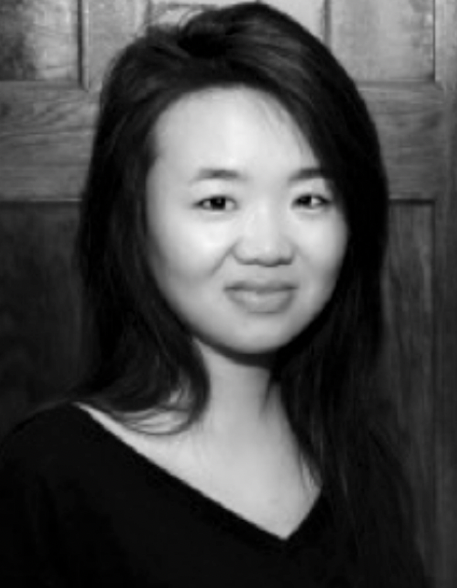 Uzbekistanian-born Yulia Yun is a graduate of the Uspensky Special Music School for Gifted Children in Tashkent where she majored in music theory, composition and piano performance. She has given numerous solo and chamber music concerts in Uzbekistan, Turkmenistan, Kazakhstan and Korea and has made appearances as a guest soloist with Uzbekistan Philharmonic Orchestra, Tashkent Symphony Orchestra, Tashkent Chamber Orchestra and Uzbekistan Youth Symphony Orchestra.
Ms. Yun's concert repertoire includes Rachmaninoff Concerti No. 2 and No. 4, Shostakovich Concerto No. 1, Grieg Concerto in A, Saint-Saëns Concerto No. 2 in G, Chopin Concerto No. 2, Shumann Concerto in A minor, Beethoven Concerto No. 4, and Mozart Concerti No. 20 and No. 23.
A third prize winner at the Youth International Piano Competition in Turkmenistan, and first prize winner at the Uzbekistan National Piano Competition, Ms. Yun was awarded a full scholarship at Northern Kentucky University in January 2005, where she studied with Professor Sergei Polusmiak and was granted degrees in Piano Performance and French. She holds a Master of Music Degree in Piano Performance and Graduate Performance Diploma from the Longy Conservatory of Bard College, where she studied with Mrs. Eda Mazo-Shlyam and Mrs. Ludmilla Lifson. She has been a piano accompanist for Boston Ballet school and company since 2012. In August of 2015, she was granted an Artist visa to continue her career as a professional musician in the United States.
Andrea Clearfield • Composer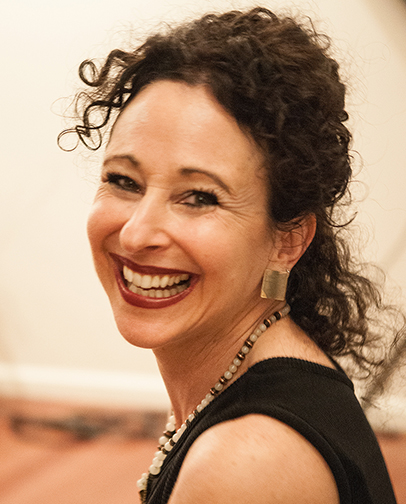 Andrea Clearfield is an award-winning composer of music for orchestra, opera, chorus, chamber ensemble, dance, and multimedia collaborations. Clearfield creates deep, emotive musical languages that build cultural and artistic bridges. She has been praised by the New York Times for her "graceful tracery and lively, rhythmically vital writing", the Philadelphia Inquirer for her "compositional wizardry" and "mastery with large choral and instrumental forces", the L.A. Times for her "fluid and glistening orchestration" and by Opera News for her "vivid and galvanizing" music of "timeless beauty". Her works are performed widely in the U.S. and abroad.
Dr. Clearfield is 2020-2022 Composer-in-residence with National Concerts at Carnegie Hall. She is a 2020 recipient of the Pew Center for Arts & Heritage International Artist Residency, was named the 2020 The David Del Tredici Residency Fellow at Yaddo and was awarded a 2020 Helene Wurlitzer Foundation of New Mexico Fellowship. She has received 2021 commissions from The Mendelssohn Club for a cantata funded by the NEA to libretto by Ellen Frankel and a new work for chorus and orchestra for the University of New Mexico in Albuquerque. She was the 2018 Composer-in-Residence at Music from Angelfire Festival, Ida Kafavian, Artistic Director and was named the Steven R. Gerber Composer-in-Residence with the Chamber Orchestra of Philadelphia for their 2018-19 season.
Among her 160 works are twelve large-scale cantatas including Kabo Omowale, commissioned and premiered by The Philadelphia Orchestra. Her 2009 Lung-Ta (The Windhorse) for large chamber ensemble, 2012 cantata, Tse Go La for double chorus and chamber orchestra and 2016 Rabsong Shar for soprano, chamber orchestra and digital audio were inspired by her Tibetan music fieldwork in Lo Monthang Nepal. There she documented the repertoire of the last of the royal court singers with anthropologist and ethnomusicologist Katey Blumenthal. Lung-Ta was presented as a gift to His Holiness the XIV Dalai Lama as an initiative for world peace. Andrea had the great honor of being invited to perform with the Court of the Dalai Lama.
Her first opera, MILA, Great Sorcerer, to libretto by Jean Claude van Itallie and Lois Walden was presented at the acclaimed Prototype Festival in January, 2019 at the Gerald Lynch Theater in NYC. Hailed by the press as "mystical and dramatically compelling", "a colorful, expressive score", "lush and rich", "a sonic exultation with lasting power", "successfully delivers its redemptive message", "highly recommended" and "the most accomplished and mature of this year's compositions", the opera was commissioned and produced by Gene Kaufman and Terry Eder and directed by Kevin Newbury.
She has been awarded numerous fellowships including a 2016 Pew Fellowship and 2017 Independence Fellowship in the Arts and has also held fellowships at the American Academy in Rome, the Rockefeller Foundation's Bellagio Center, Civitella Ranieri, Yaddo, MacDowell Colony, Helene Wurlitzer Foundation of New Mexico, Copland House, Ucross, Djerassi, Ragdale, Brush Creek Foundation for the Arts, Blue Mountain Center, Montalvo and the Virginia Center for the Creative Arts among others. She has been invited as Visiting Composer to numerous universities and colleges including the University of Texas at Austin, Curtis Institute of Music, Yale-National University of Singapore, Emory University, Michigan State University, The College of New Jersey, Indiana University, University of Chicago, Temple University, Rimsky Korsakov Conservatory in St. Petersburg, Russia, and was McIlroy Visiting Professor at the University of Arkansas. Clearfield is also in demand as a curator, adjudicator, speaker and concert host.
Dr. Clearfield served on the composition faculty at The University of the Arts from 1986-2011. She received a DMA in Composition from Temple University where she studied with Maurice Wright, was a two-time recipient of the John Heller Memorial Award for Excellence in Composition and holds the distinction of being the first composer in the history of the University to receive the prestigious University-wide Presidential Fellowship. She was honored by Temple University as a Distinguished Alumna. She received an MM in Piano from the University of the Arts and a BA in Music from Muhlenberg College where she studied with her mentor, Margaret Garwood, graduated with Summa Cum Lauda, Phi Beta Kappa and first place awards in Performance and Musicianship and was the recipient of the Alumni Achievement in the Arts Award. Clearfield is also in demand as a curator, speaker and adjudicator for national arts foundations, artist residencies and performance competitions. She has served on the Board of Directors of the Recording Academy (Grammy's), Philadelphia Chapter.
Her works are published by Boosey & Hawkes, G. Schirmer, Hal Leonard, International Opus and Seeadot and have been recorded on the Bridge, Sony, MSR, Albany, Crystal and Innova labels. Active as a pianist, she performed with the contemporary music ensemble Relâche for twenty-five years. Now completing its 34th year, Clearfield is also the founder and host of the renowned Salon, featuring contemporary, classical, jazz, electronic, multimedia and world music and winner of Philadelphia Magazine's 2008 "Best of Philadelphia" award. She curates and hosts other Salon concerts around the country.
Sam Brinton • Narrator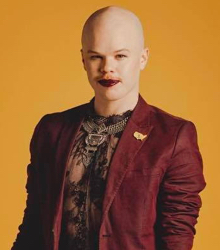 Sam Brinton is one of the world's leading advocates for LGBTQ youth. They are the founder of the 50 Bill 50 States campaign to end the dangerous and discredited practice of conversion therapy, first in the United States and then around the globe and former Vice President of the Trevor Project. As a survivor of conversion therapy, Sam has spoken before the United Nations and Congress as well as testified on legislation from coast to coast to protect LGBTQ youth mental health across the country. When not working on ending conversion therapy, Sam is serving as the nation's expert on keeping communities and environments safe as a leader in nuclear waste management technology and policy. They have been featured in numerous media including multiple New York Times op-eds as well as The Washington Post, Playboy Magazine, and TIME Magazine. Sam uses they, them, or theirs as their pronouns as a genderfluid person.
Mimi Lemay • Narrator
Mimi Lemay is an author, advocate for transgender rights and a member of Human Rights Campaign's Parents for Transgender Equality Council. She has written for and appeared in media in both the US and abroad, including several NBC Nightly News segments, beginning with the 2015 feature that was a rare and early glimpse into the lives of a family supporting a transgender child's identity: Jacob's Journey: Life as a Transgender 5-Year-Old, the network's most viewed segment on Facebook. Mimi and the entire Lemay family have fought for passage of an equal access public accommodations law in Massachusetts in 2015-2016, against the repeal of the law in 2017-2018 and for a successful conversion therapy ban in 2019. Mimi's critically acclaimed memoir, What We Will Become: A Mother, A Son and A Journey of Transformation, was a finalist for 2020 Massachusetts Book Awards, expanding on her viral essay, A Letter to My Son Jacob on His 5th Birthday, her first piece of advocacy. In addition to her work with the Human Rights Campaign, Mimi has worked with a wide spectrum of LGBTQIA+ advocacy groups and government agencies to increase education and further equality for transgender individuals. Mimi is a 2020 Commonwealth Heroine, an award granted by the Massachusetts Commission on the Status of Women. She holds a Masters in Law & Diplomacy from the Fletcher School at Tufts University where her concentration was Southwest Asia and Islamic Civilization. She lives on the North Shore with her husband Joe, their three children and two dogs and considers herself, gratefully, an eternal optimist.
What We Will Become: A Mother, A Son and A Journey of Transformation by Mimi Lemay
A mother's memoir of her transgender child's odyssey, and her journey outside the boundaries of the faith and culture that shaped her.
From the age of two-and-a-half, Jacob, born "Em," adamantly told his family he was a boy. While his mother Mimi struggled to understand and come to terms with the fact that her child may be transgender, she experienced a sense of déjà vu—the journey to uncover the source of her child's inner turmoil unearthed ghosts from Mimi's past and her own struggle to live an authentic life.

Mimi was raised in an ultra-Orthodox Jewish family, every aspect of her life dictated by ancient rules and her role as a woman largely preordained from cradle to grave. As a young woman, Mimi wrestled with the demands of her faith and eventually made the painful decision to leave her religious community and the strict gender roles it upheld.

Having risen from the ashes of her former life, Mimi was prepared to help her son forge a new one — at a time when there was little consensus on how best to help young transgender children. Dual narratives of faith and motherhood weave together to form a heartfelt portrait of an unforgettable family. Brimming with love and courage, What We Will Become is a powerful testament to how painful events from the past can be redeemed to give us hope for the future.