In this season of giving, we're asking for your support of Coro Allegro. As LGBTQ+ rights are being threatened by those who would silence us, your support of our mission as Boston's LGBTQ+ and allied classical chorus, has never mattered more. With your help, Coro Allegro will keep singing out and building bridges through extraordinary music that strengthen and affirm our community. We are seeking 100 new donations from our Coro Family. Your gift will be doubled due to a $5k matching challenge from a generous donor like you! We are stronger when we give together. Please give today!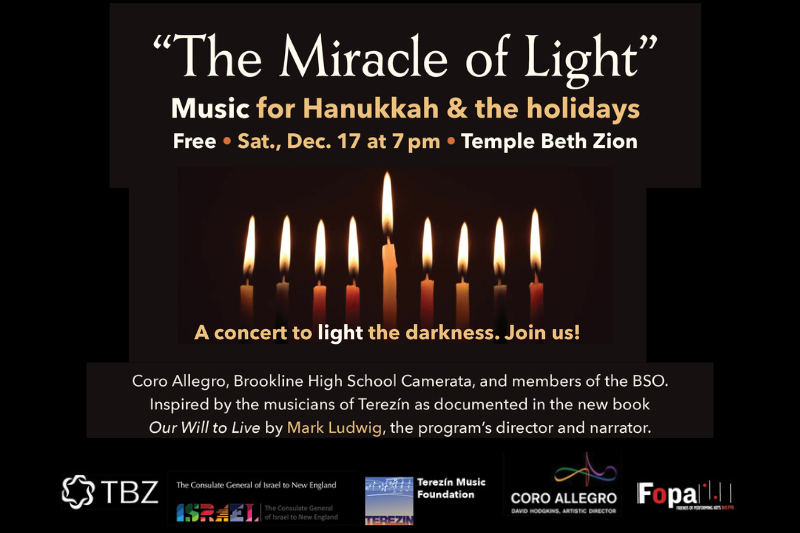 Join us for a concert to light the darkness with music for Hanukkah and the holidays. Coro Allegro performs at Temple Beth Zion as guests of the Terezín Music Foundation with members of the BSO and the Brookline High School Camerata. Inspired by Terezín musicians as documented in the new book, Our Will to Live, by Mark Ludwig, the program's director and narrator. Coro will reprise Sivan Eldar's The Song About the Child, and Eliahu HaNavi and Anu Olim, arranged by Viktor Ullmann in Terezin, 1944. Learn more.
Add an open message of support for LGBTQ+ youth to this powerful letter writing campaign. At a time when rights of transgender and other LGBTQ+ youth are being eroded and LGBTQ+ topics are being silenced, Coro Allegro, the Boston Alliance of GLBTQ+ Youth (BAGLY) and other community partners are gathering and sharing letters from the LGBTQ+ community and allies to support queer youth and their families, with the power of our collective voices. Learn about the moving letters to transgender kids and survivors of conversion therapy that inspired us and add your voice!
Coro Allegro is proud to be Boston's LGBTQ+ and allied classical chorus. Under the baton of Artistic Director David Hodgkins, Coro Allegro is known for award-winning programming, powerful commissions, and critically acclaimed performances and recordings of works by diverse classical and contemporary composers. Since our founding in 1990, Coro has introduced audiences to 26 world premieres, including 15 works commissioned by and for Coro Allegro, all from composers from under-represented groups—LGBTQ+, BIPOC, MENA, women and gender minorities. We offer a welcoming, affirming and supportive environment for performers and audiences alike of all sexualities, gender identities and expressions, races, ethnicities, and religions.
Experience that pride and community for yourself. Join the Coro Family of friends, allies, and members of the LGBTQ+ community as a singer, supporter, or volunteer.