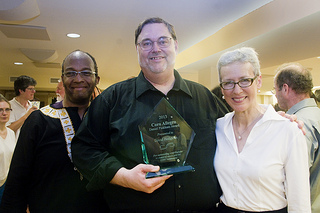 photo by Berta Daniels
David Hodgkins,
2013 Daniel Pinkham Award Recipient
Coro Allegro is very pleased to announce that Artistic Director David Hodgkins is our 2013 Daniel Pinkham Award honoree. The Award was presented to Mr. Hodgkins at our concert on June 2.
Through his love of and dedication to classical choral music, David Hodgkins inspires and excites the musicians and audiences of Coro Allegro, The New England Classical Singers in Andover, and nearly 20 years teaching at The Commonwealth School in Boston. His contributions to the American Choral Directors Association push the envelope of musical excellence, creativity, and adventurous programming for choruses across America. A true collaborator, David has worked with composers like: Patricia Van Ness, Robert Stern, Ken Fuchs, Ruth Lomon, and Greg Bullen, making Coro a leading chorus for commisions and premieres of 20th and 21st century choral music. His selection Boston area soloists embraces both established artists and the upcoming stars of tomorrow. Working with Coro Allegro's longstaning concertmistress, Kristina Nillson, David supports the talented freelance instrumentalist community of Boston which has come to admire his attention to detail and his profound musicality. David's work as producer of CDs by Coro Allegro, La Donna Musicale, and 20th century works for solo trumpet and piano, extend his influence on music into an increasingly global realm. Gramophone Magazine praised Coro Allegro's debut commercial CD with Navona Records for its "significant contributions to the choral repertoire," remarkable praise from a world authority on classical music for an LGBT community chorus.
Though there were those 20 years ago who questioned Coro's decision to choose a straight white male to lead an LGBT chorus, over these years David Hodgkins has shown himself to be a tireless advocate for the LGBT community, and his powerful example reminds us that Coro Allegro exists for members and friends of the LGBT community. David takes Coro Allegro's mission to build bridges through music and makes it a reality. He has led us in church services at Pride, World AIDS Day, and in support of same-sex marriage. He consistently promotes Coro Allegro as a shining example of the best of the LGBT community and the Boston music community. Through collaborations with a broad range of choruses and orchestras, David always pushes us to exemplify what is best about the LGBT community and their allies. He brought Coro Allegro to its first GALA Choruses Festival in 1996, bringing a new level of musical excellence to a festival that honors the best in music from LGBT choruses around the world and celebrates the diversity to be found in this vibrant community. Coro Allegro's 2012 Chorus America/ASCAP Alice Parker Award, recognizing our programming of significant recently-composed music that expands the mission of the chorus and challenges our audience in a new way, is due to David's commitment to both music and community.
In honor of the passion that he brings to all his artistic endeavors, his commitment to using music to create a more just and humane world, and his inspiring love of music that brings us together today, Coro Allegro is thrilled to present the sixth annual Daniel Pinkham Award to David Hodgkins.