"Shofar" Painting Auction
Coro Allegro, Boston's LGBTQ+ and allied classical chorus, is auctioning "Shofar," a painting by artist Susan Pepper Aisenberg, the generous gift of Catherine Madsen, librettist of Robert Stern's oratorio, Shofar. Proceeds of this auction will support Coro Allegro's concert Shofar: In Memoriam, in honor of beloved Massachusetts artists, Robert Stern, Sanford Sylvan, and Donald Wilkinson, Sunday, March 8, 2020 at 3pm in Sanders Theatre, Cambridge, MA.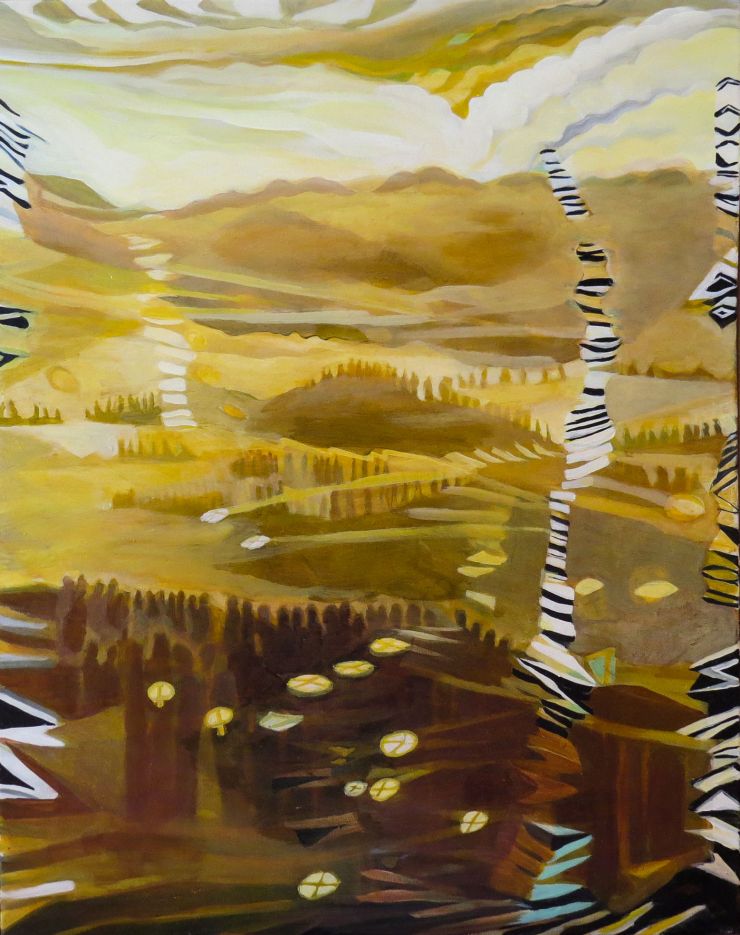 "Shofar," Acrylic
Susan Pepper Aisenberg
Note by Catherine Madsen:
"Shortly after the premiere of Robert Stern's "Shofar" in 2006, Susan Pepper Aisenberg showed her paintings in the gallery at the Jewish Community of Amherst. I was struck by her work in general, but particularly by one painting that looked like a fall landscape in interior Alaska (where I spent part of my childhood). Looking closer, I found that it was titled "Shofar," and that the black-and-white verticals were not birch trees but representations of the sound that split the aural landscape at Sinai. Each element of the painting - the floating yellow discs, the cyclonic or volcanic clouds, the rippling layers of forested hills - shows a landscape thrown into stress by the eruption of God's presence into its air. One can almost feel the earth shake under one's feet.

I was very drawn to the painting, and thought Bob Stern should have it; he thought I should have it, so I have had the honor of living with it for several years. But even at the outset I thought it should be more widely known by the whole community that has supported and produced the Shofar oratorio, and now I am glad to make that possible for the benefit of Coro Allegro".
A note from the painter, Susan Pepper Aisenberg:
"About seven years ago two realizations came to me regarding my work as a painter. One, I found I like my work in a synagogue. Second, I am drawn to biblical themes. Before that my subject matter was more landscape and studying movement and time. Essentially, not all these elements are that far apart.

A number of years ago I had the opportunity to show paintings at the Jewish Community of. Amherst. I enjoyed it and it steered me more intensely on a path of painting biblical themes. The approach is capturing images that arise internally when reading from the Torah. With this painting the image and thinking process are from a reference in the Talmud to cross-sensory experiences when all the Israelites stood receiving the Torah at Sinai. As we know, there are many other mystical references that imply timelessness such as the entire Torah received at once, and/or all events seen as Torah.


This painting is my first attempt. It is the sound of the Trumpet or Shofar at Sinai."
_______________________________________
Thank you for your consideration of this auction to support Coro Allegro, Boston's award-winning LGBTQ+ and allied classical chorus, and this special concert presentation.