WE ARE HERE
SUNDAY, May 22, 2016 3PM • Church of the Covenant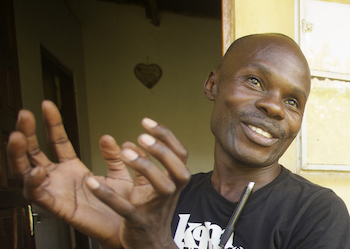 Aluta continua: The passion of David Kato Kisule
by Eric Banks
Recounting the last days and legacy of the Ugandan LGBTI activist
David Kato Kisule (1964-2011)
World Premiere
Spirituals:
"Hold On," arranged by Jester Hairston
"Sometimes I Feel Like a Motherless Child," arranged by H.T. Burleigh
"Were You There," arranged by H. T. Burleigh
"My Lord, What a Morning," arranged by H.T. Burleigh
Gospel works:
"We Are Climbing Jacob's Ladder," arranged by Horace Boyer
"The Storm is Passing Over," by Charles Albert Tindley
Reginald Mobley, countertenor
Philip Lima, baritone
This fall Coro Allegro celebrated a milestone for LGBTI human rights in the US with "A Concert for Marriage Equality." Now we ask you to join us as we raise our voices for LGBTI people worldwide.
"If we keep on hiding, they will say we are not here…
but of late, we are here." -- David Kato Kisule
Be here to witness the world premiere of Aluta continua: The Passion of David Kato Kisule, by award-winning composer Eric Banks, recounting the life and legacy of the slain Ugandan LGBTI activist. "Aluta continua" (the struggle continues) was a rallying cry for Kato and other Ugandan LGBTI leaders fighting the homophobic campaigns around the notorious "kill the gays" bill inspired by US evangelical missionaries.
Both moving and dramatic, Banks' work is a celebration of courage. It lifts the voices of the struggle from contemporary media accounts and sets them for double chorus, soloist, and orchestra, mixing in quotations of hymns gone awry and songs of solace.
Also on the program, a set of empowering of African American spirituals and gospel works offered in solidarity with the enduring spirit of Black Lives worldwide.
"So, we are brothers. So, we are friends.
So, we are partners in the struggle."
— David Kato Kisule
Janson Wu, Executive Director of GLAD, GLBTQ Legal Advocates & Defenders, former president of Coro Allegro, and lead attorney in GLAD's efforts to secure asylum status in the U.S. for Ugandan LGBTQI refugees will be the recipient of the ninth annual Daniel Pinkham Award.